1. Download the utility from http://www.mailenable.com/Tools/MEQueueClean.zip
2. Extract and copy the exe file to \Mail Enable\Bin\ 
For Plesk installation. The MailEnabke directory will be under
Program Files (x86)\Parallels\Plesk\Mail Servers\Mail Enable
3. Check the message source by opening checking the mail queue folder
Mail Enable\Queues\SMTP\Outgoing\Messages
4. Open few of the .MAI files and take note on the mail header.
Example.
Received: from jpg ([219.129.24.227]) by win33.ip.com with MailEnable ESMTP; Wed, 29 Aug 2012 10:39:20 +0800
Message-ID: <262EFE8E222427255BB456E06A2AD2BD@jpg>
From: =?gb2312?B?v823/jE0MTk=?= <recruit11@domain.com>
5. If there are repeating mail was sent from recruit11@domain.com.
Put recruit11@domain.com as the search string in the mail queue cleaning utility.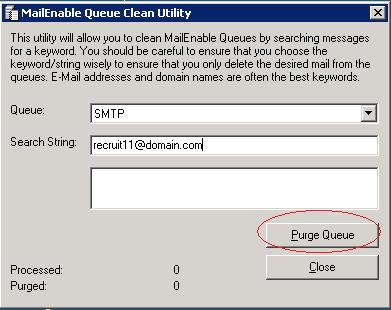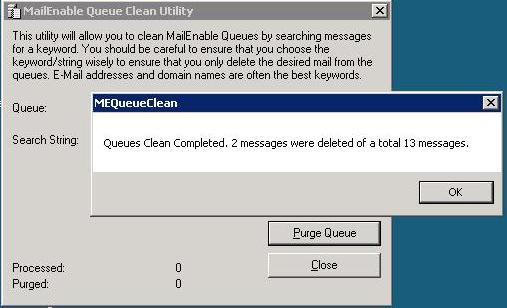 6. For more information. Please refer to MailEnable official Knowledge Base
http://www.mailenable.com/kb/Content/Article.asp?ID=me020250